COVID-19: Important Information & Updates
Due to additional precautions we're taking in our warehouses, we're experiencing delays in shipping orders and processing returns. Shipping time may vary from 2-4 weeks to US and Canada. We appreciate your patience and understanding as we work extra hard to ensure your safety as well as the safety of our teams. Please contact us at support@doggywrld.com if you have any queries.
How long does shipping take?
We ship worldwide. On average our customers receive orders within 7 - 20 business days. This is an average estimated time frame and does not account for unforeseen delays like custom processing depending on your country.
Due to high demand for our popular products, please allow 2-4 weeks for delivery.
My order hasn't arrived in the estimated delivery times
Please contact our support team with your order number and/or with exact names used during checkout.
(This policy excludes errors made by customers when providing shipping details on their order(s) or missed parcel deliveries).
What if my order is already shipped to the wrong address?
If the order is already shipped to the wrong address, and you would like us to resend the order - we charge 75% from the original order amount to cover material, labor and shipping cost.
Do you ship internationally?
Yes! We ship worldwide to provide great products for anyone around the globe.
We are based in Los Angeles where we design our harnesses and carefully have them manufactured in Shanghai. This helps us pass across savings to our customers as we ship directly from our manufacturer's warehouse.
Will there be a shipping confirmation once the order is placed?
Yes, once your order is placed you will receive a confirmation via email along with your order ID number. Make sure to check your junk mail just in case.
Where is my order shipped from?
Our fulfillment centers are located in the United States, Canada, Europe, and China.
Are customs and duties taxes applied at checkout for international orders?
Customs and import duty may apply to orders and are levied by the destination country. The customer is liable for all import duties as well as customer and local sales taxes levied by the country they are shipping to.
If the order is refunded, the customer will be responsible for the original delivery charges, any applicable tax and duty charges and the cost of returning the package.
What happens if my package is lost?
If your parcel hasn't arrived as expected and you think it may be lost, we're really sorry about that! Unfortunately these things happen from time to time. Please make sure to send your packages to a secure address. Once your package is in the hands of a shipping carrier (USPS, FedEx, etc), it becomes the responsibility of the shipping carrier. If your package is lost or stolen in the delivery process or once it is delivered, please file a report with your shipping carrier and notify by emailing support@doggywrld.com. We'll review all cases and will do our best to help you out.
How do I track my package?
We will send you an email confirmation containing your tracking information as soon as your order has shipped.
Alternative you can click here to insert your order number and email to track your order.
Please note that it can take up to 3-7 business days for the tracking information to be updated.
I did not get a tracking number, what do I do?
If you did not get a tracking number after 7 business days of placing your order you can simply email us at support@doggywrld.com and we will gladly sort out any issues.
My tracking number isn't updating
Please note that your tracking only updates when there's a major event. 
Why is my payment being declined?
For your own protection, our system sometimes blocks payments if the details entered are not completely correct. If your payment gets declined, please ensure you are entering your details exactly as they are written on your card that you are using to make the purchase. If the issue still continues, please use PayPal (you don't need to have an account and can still pay by card). Or you can contact your bank to solve the issue.
What payment options do you offer?
We happily accept payments by PayPal, Visa, MasterCard, American Express, Google Pay and Apple Pay.
What size should I buy for my dog? Refer to the size chart below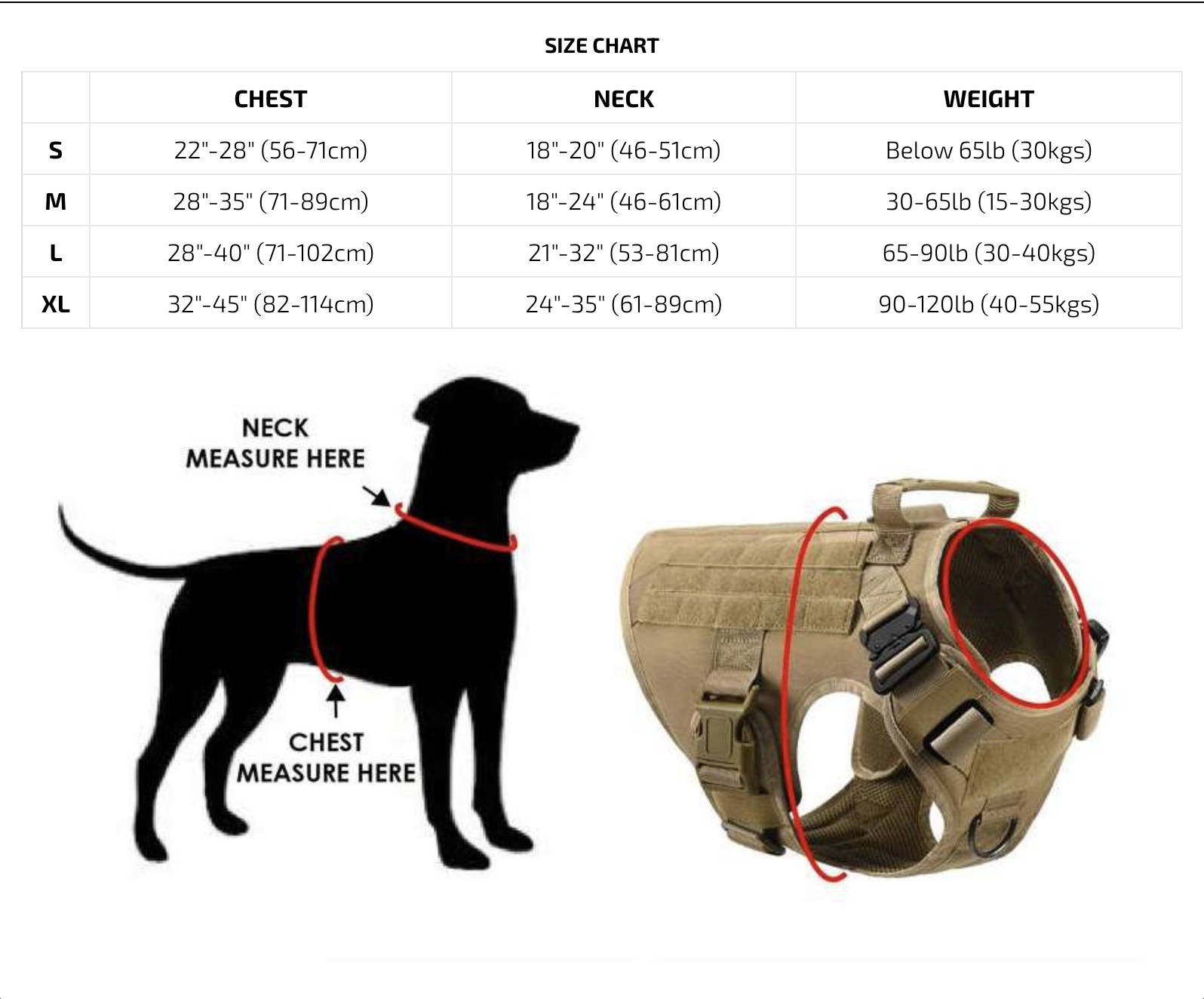 Can I edit or cancel my order?
Unfortunately we can't cancel or amend any orders after 24 hours of your purchase. Amendments may include but are not limited to:
- Change of delivery address
- Changes to colours and sizes
- Adding or removing items
- Applying discounts
- Full order cancellations
Please be extra careful when you're placing your order to make sure that all your details are full and correct.
I have received my order but an item is missing or incorrect - what do I do?
We do our best to make sure you receive everything you ordered without any issues. But from time to time things can go wrong. If an item is missing from your order, please get in touch with our customer service team at support@doggywrld.com and we'll do our best to help you out!
What if I receive a faulty product?
If a product received has manufacturing defects, buyers are entitled to request a product replacement within 14 days of receiving the item. If the case is deemed valid, we will cover related costs to deliver a replacement. Please be aware to send a photo of the damage within 24 hours after delivery to support@doggywrld.com otherwise we can't accept the refund. 
I want to return my product
We accept returns on all items for certain reasons within 30 days of purchase, for an exchange or credit for all purchases made.

We do not offer a refund, credit or exchange for change of mind purchases.
All items must be in their original condition; unworn, unused, unwashed with everything still attached, provided with proof of purchase. For more information click here www.doggywrld.com/returns

When and how will I receive my refund?
Please allow 10 working days from the receipt of your return. Refunds will be sent to the account you used for purchase.